Mobile App: Barks In The Park
In Progress*
Introduction
Being the owner of a high-energy pup, I take my dog, Mac, out to dog parks a few times a week. Often, I spend time driving to dog parks only to find they're empty, kept in terrible condition or not as advertised. Being a UI/UX designer, after some initial research, I saw an opportunity here. Barks In The Park is an app that will allow users to access real-time capacity levels in dog parks and rate their experiences to keep those tails waggin' and hoomans happy.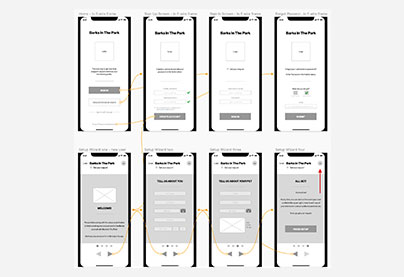 Getting Started
Getting started meant research. I spent hours researching apps, Google search queries and websites for; "dog parks", "dog parks in my area", "dog park capcity levels", "dog park reviews" and found that there was not a single app that offered a comprehensive review with the above information. I quickly got to work starting with a basic questionnaire and scribbled down some of my own goals;
How would the app easily capture capacity levels
What additional information should be listed besides capacity and cleanliness
What info do I need to capture for ease of use
Allow pictures to be taken and shared!!!!
Research & Strategy
To start the research part of my project, I asked three friends to fill out the questionnaire to give me some quick feedback to refine and synthesize my wants and needs with other dog owners.
From my findings, I refined the basic goals and features of the app to;
Auto logging capacity levels using geo locating on smart phones
Show peak capacity level times and days (history)
Allows users to create quick reviews
Allow users to upload pictures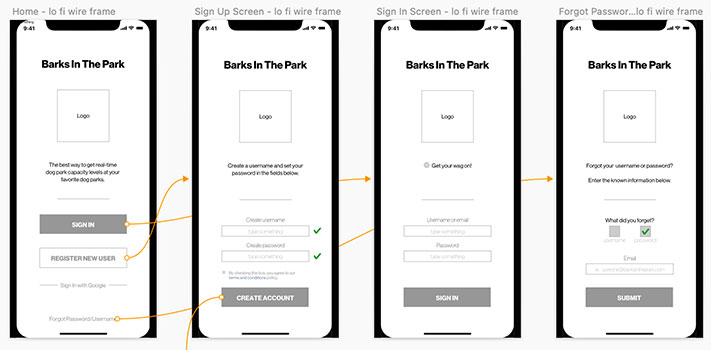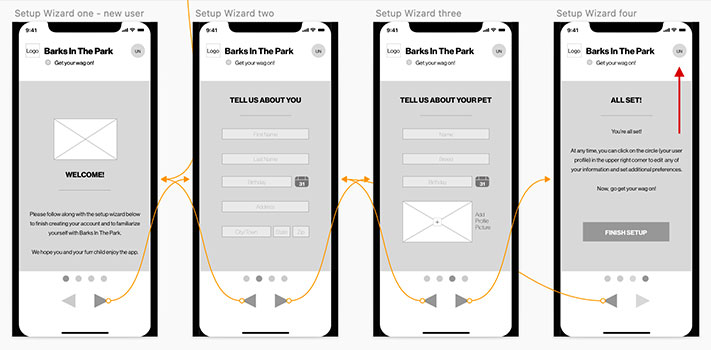 The app is still very early in the design phase. I only have the lo-fi registration process prototype complete at this time.
Get in touch

I work as a freelance designer in all of the above fields. If you'd like to discuss a project in more detail, feel free to drop a line. I love talking design.